An imagined place or state of things in which everything is perfect.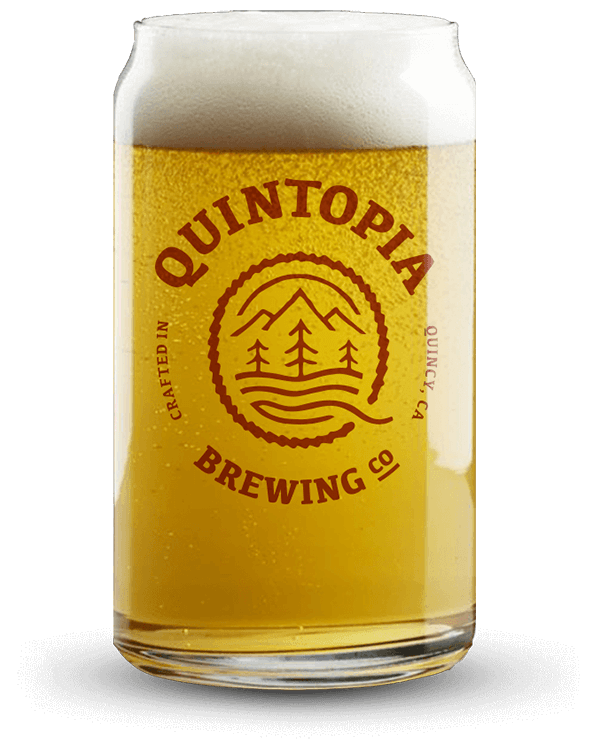 News
We are open for to-go orders only due to Covid-19
Our Beer
An alternative to the extreme hop bombs or irrationally heavy barrel-aged beasts, we offer easy-drinking drinking styles that appeal to everybody, for both the seasoned and the novice craft beer drinker. Freshest beer in Quincy California.
Taproom
541 Main Street, Quincy CA
IBU

International Bitterness Units
Is a gauge of a beer's bitterness. IBUs measure the parts per million of the acid found in hops that gives beer its bitter flavor.

ABV

Alcohol by Volume
Is a standard measure of how much alcohol is contained in a given volume of an alcoholic beverage. It is defined as the number of millilitres of pure ethanol present in 100 mL of solution at 68 °F.
*NEW* Lockdown Lager

– Helles Lager

*NEW* Lockdown Lager




Helles Lager

21
5.1%
A German Helles style Lager. Straw-gold, with a soft and bready Pilsner malt profile, and the pleasant floral spiciness of Hallertau Mittelfruh, one of the fabled 'noble' hops of the old-world European brewers.
IBU – 21
ABV – 5.1%
Madrone Hound

– Hazy Session IPA

Madrone Hound




Hazy Session IPA

29
5.2%
Hazy, juicy, fruity. 'Hoppy' but low bitterness and modest alcohol. This beer celebrates modern American hops – Citra, El Dorado, Simcoe – while staying true to Quintopia's specialty of modest and easy-drinking 'session' beers.
IBU – 29
ABV – 5.2%
Meadow Valley Mild

– English Mild

Meadow Valley Mild




English Mild

23
3.9%
An almost forgotten style, Mild is a true working folks' beer. A carefully chosen but modest malt bill keeps the flavor high but the alcohol low. This deep amber beer finishes light and dry, with flavors of light caramel and toast.
IBU – 23
ABV – 3.9%
Sleepwalkerz Red Rye-n Trivia Ale

– Red Rye Ale

Sleepwalkerz Red Rye-n Trivia Ale




Red Rye Ale

32
5.3%
The winners of our last Trivia tournament—the Sleepwalkers—got to spend a day in the brewhouse creating this tasty English-inspired ale. Spring Pale Ale malt and Fuggle hops from the UK, along with Rye malt for a little complexity and spice.
IBU – 32
ABV – 5.3%
Plumas Pale Ale

– Pale Ale

35
5.3%
Plumas County Proud! Our house Pale Ale is easy drinking and built on the classic West-Coast style. A smooth balance of Pale and light Crystal Malt, alongside Centennial and Chinook Hops.
IBU – 35
ABV – 5.3%
Uncle Sam's Crystal Wheat IPA

– IPA

Uncle Sam's Crystal Wheat IPA




IPA

55
6.2%
A pale, unfiltered IPA using a base of Idaho Pilsner Malt, with Crystal Wheat for a light candy touch. El Dorado, Citra & Centennial hopping, and fermented with a Kolsch Ale yeast for something a little different.
IBU – 55
ABV – 6.2%
When in Doubt, Stout

– Oatmeal Stout *NITRO*

When in Doubt, Stout




Oatmeal Stout *NITRO*

50
5.8%
Rich with dark chocolate and roasted aroma, with a thick and creamy nitrogen-poured head. Very smooth and drinkable, this is a classic stout for every lover of dark beer.
IBU – 50
ABV – 5.8%
Solar Fields

– Hoppy Session Lager

Solar Fields




Hoppy Session Lager

38
4.4%
Quintopia's brewery is now solar powered! This sunshine-inspired beer has the hoppy spirit of an IPA, but brewed cool with a bottom-fermenting lager yeast, creating a crisper, cleaner canvas to express the copious dosing of CTZ and Mosaic hops in both kettle and fermenter. Sustainability never tasted so good!
IBU – 38
ABV – 4.4%
What's Brewing? (coming soon…)
Lone Pine Porter – Porter
Kiandra Kolsch – Kolsch
Just-An-Ipa – West Coast IPA
Food
A family-friendly venue serving up fun, modern pub food with a twist. Our menu rotates often and creative daily specials will be listed on the taproom board.
Current Specials
While Stocks Last
Bacon Cheesburger Loaded Fries – Seasoned ground beef, jack cheese, special sauce, mustard and ketchup, pickles, onion, over our large crispy fries. $14
Mango Blue Grilled Cheese – House-made mango chutney, blue cheese, green onion, and oozing mozzarella on Truckee Sourdough. $10
Events
From local bands, national touring acts, DJ themed nights, weekly trivia, live community theatre & more. You'll find it all here.
Online Trivia Night – Thursdays at 6:30pm (room opens 6pm)
6:30pm (Zoom room opens at 6pm)
Celebrating another week of the Pandemic.  Click on this link:
https://us02web.zoom.us/j/82445976923
Come make or join a team, or sit back and watch. ** Participants that can show themselves enjoying a Quintopia Crowler or Growler of beer, or Quintopia food, during the event will get a bonus point for their team (up to four bonus points per team)** Quintopia apparel might impress our Quizmaster enough for extra bonus points too! Instructions and rules for joining the online meeting room below. PLEASE READ!
1) Each participant should ideally download the free Zoom app in advance. We recommend using a laptop or desktop (better than phones for messaging and multitasking) but it is available for smart phones too, at your App Store. You do not have to download the app – you can participate through your web browser – but the app has greater functionality and stability.
2) Join the meeting by clicking on the invitation link below and it will open in your web browser (or automatically open your app if installed) https://us02web.zoom.us/j/82445976923
3) We will open the room at 6pm so everyone has ample time to login and work out any IT issues. The tournament starts at 6:30pm.
4) To keep things from going nuts, we will have everyone muted for most of the evening. But we will endeavor to give a few moments to each team during the evening to make some noise!
5) There is a public message board within the Zoom app for general comments and questions toward your Quizmaster – DO NOT POST OR DISCUSS ANSWERS!!! Please use an independent messaging system to communicate with your team mates – see next point.
6) Teams should independently organize beforehand their own way to communicate among themselves for answers and private banter (group texting, FB messenger, etc). That is up to you and separate to the Trivia Zoom room.
7) After Ryan finishes asking the questions he will screen-share a Powerpoint of the six questions, while he grades your answers.
8) Answers will be submitted to rjthoniATgmailDOTcom Please use only one email thread per team for answers (pick someone to be the email person) and hit 'reply' each time to keep the thread continuous for the evening.
I can't stress enough how important it is that we respect the honor system in order to maintain a fun and spirited competition! It will be very easy and very tempting to search for answers… but come on… No spittin' No cheatin'!
CRUDE OR OFFENSIVE BEHAVIOR (AUDIO, VIDEO OR WRITTEN) THAT GOES AGAINST THE SOCIAL NORM WILL NOT BE TOLERATED, AND USERS WILL BE IMMEDIATELY REMOVED FROM THE ROOM. PLEASE RESPECT THE EXPERIMENT WE ARE TRYING TO PULL OFF TODAY AND BE PATIENT IF THERE ARE ANY ISSUES WE HAVE TO WORK THROUGH.
Thank you for joining!