An imagined place or state of things in which everything is perfect.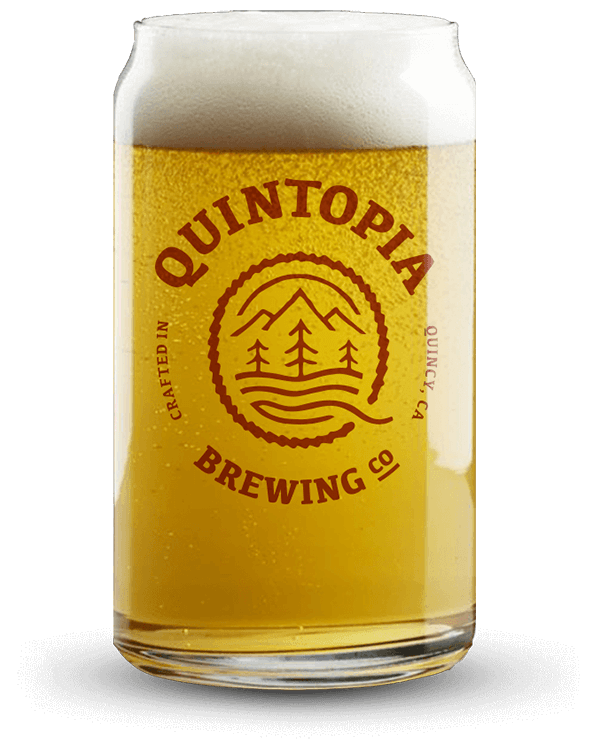 Our Beer
An alternative to the extreme hop bombs or irrationally heavy barrel-aged beasts, we offer easy-drinking drinking styles that appeal to everybody, for both the seasoned and the novice craft beer drinker. Freshest beer in Quincy California.
Taproom
541 Main Street, Quincy CA
IBU

International Bitterness Units
Is a gauge of a beer's bitterness. IBUs measure the parts per million of the acid found in hops that gives beer its bitter flavor.

ABV

Alcohol by Volume
Is a standard measure of how much alcohol is contained in a given volume of an alcoholic beverage. It is defined as the number of millilitres of pure ethanol present in 100 mL of solution at 68 °F.
Solar Fields

– Hoppy Session Lager

Solar Fields




Hoppy Session Lager

38
4.4%
Quintopia's brewery is now solar powered! This sunshine-inspired beer has the hoppy spirit of an IPA, but brewed cool with a bottom-fermenting lager yeast, creating a crisper, cleaner canvas to express the copious dosing of CTZ and Mosaic hops in both kettle and fermenter. Sustainability never tasted so good!
IBU – 38
ABV – 4.4%
Madrone Hound

– Hazy Session IPA

Madrone Hound




Hazy Session IPA

29
5.2%
Hazy, juicy, fruity. 'Hoppy' but low bitterness and modest alcohol. This beer celebrates modern American hops – Citra, El Dorado, Simcoe – while staying true to Quintopia's specialty of modest and easy-drinking 'session' beers.
IBU – 29
ABV – 5.2%
Kiandra Kolsch

– Pale German Style Ale

Kiandra Kolsch




Pale German Style Ale

24
5.2%
A classic pale straw-gold German Ale brewed with Pilsner Malt, Hersbrucker hops, and a special yeast fermented at cooler temperatures – creating a crisp yet flavorful beer reminiscent of a lager. 'Kiandra' is an abandoned Australian Alps gold mining town – not far from where our brewer grew up – and the birthplace of Australian skiing, and possibly the world's longest continuously running ski club (1861). Similar to nearby Johnsville CA!
IBU – 24
ABV – 5.2%
When in Doubt, Stout

– Oatmeal Stout *NITRO*

When in Doubt, Stout




Oatmeal Stout *NITRO*

54
5.8%
Rich with dark chocolate and roasted aroma, but very smooth and drinkable, this is a classic stout for every lover of dark beer.
IBU – 54
ABV – 5.8%
Plumas County Proud! Our house Pale Ale is easy drinking and built on the classic West-Coast style. A smooth balance of Pale and light Crystal Malt, alongside Centennial and Chinook Hops.
IBU – 35
ABV – 5.3%
Not imperial or session, not black or white or red, not east or west (OK, maybe a little west), not rye or mango or habanero or endangered rare herbs, not hazy, and definitely no fruit!… Just-An-IPA is a well-balanced, old-school IPA. Stay classic.
IBU – 50
ABV – 6.7%
Call it a Black IPA or a 'Cascadian Dark Ale' (the industry finds this style's name controversial) this very dark hoppy brew is loaded with Simcoe & Chinook hops, and debittered black malt. Not as chewy or rich as a stout – just a hint of dark roast blending nicely with a distinct hop profile.
IBU – 55
ABV – 6.7%
Events
From local bands, national touring acts, DJ themed nights, weekly trivia, live community theatre & more. You'll find it all here.
Trivia Night
Every Thursday @ 6:30
Come make or join a team, or sit back and watch. Prices to be won, and the winning team of the several-month tournament (win points just for turning up!) will have a beer made and named with their team name.
Mel Wade
6:30 PM
Bluesy-folk soul with her voice as the lead instrument and guitar picking as support. Each new song stretches her voice and fingers, forcing a lyrical dance between the two.