Taproom
541 Main St, Quincy, CA 95971
(530) 289-6530
WEDNESDAY – SUNDAY– 12 to 9
MONDAY – TUESDAY– closed
Scroll down for Beer and Food menus !
Recent News
Dixie Fire Relief Gift Card
Our hearts are with our communities who have been impacted by the Dixie Fire. Please let us know if you have been a victim to the wildfire and we will utilize funds from the card towards your bill.
We no longer take to-go orders over the phone!
Apologies for any inconvenience – we need to focus on our in-house guests for the best possible customer service experience. If you would like a to-go order please feel free to stop into the taproom to place your order with a server.
Our Brewery was destroyed by fire!
Click here to read about the devastating fire that destroyed our brewery on 29 July 2020… our plans to rebuild, our current brewing situation, and the businesses that have helped us recover.
Our Beer
We offer easy-drinking drinking styles that appeal to everybody, for both the seasoned and the novice craft beer drinker. Freshest beer in Quincy California.
Quintopia Beer on Tap
IBU

International Bitterness Units
Is a gauge of a beer's bitterness. IBUs measure the parts per million of the acid found in hops that gives beer its bitter flavor.

ABV

Alcohol by Volume
Is a standard measure of how much alcohol is contained in a given volume of an alcoholic beverage. It is defined as the number of millilitres of pure ethanol present in 100 mL of solution at 68 °F.
Helles in a Handbasket

– Lager

Helles in a Handbasket




Lager

20
5.2%
A very easy drinking Helles-style lager, sure to wet your whistle during these fire-ravaged times. Straw-gold, soft malt character with a touch of sweetness, light on the bitterness, and a clean lager finish from extended cold conditioning.
IBU – 20
ABV – 5.2%
Dixie Tricks

– Fire Inspired Session Beer

Dixie Tricks




Fire Inspired Session Beer

28
4.2%
Extra pale, crisp, and gently hopped. A slightly tart and dry finish with lower alcohol make this a crusher. Whether you've lost a home or you are an off-duty firefighter… we feel your struggle, and offer this thirst quenching session beer to put a pep back in your step.
IBU – 28
ABV – 4.2%
Plumas County Proud! Our house Pale Ale is easy drinking and built on the classic West-Coast style. A smooth balance of Pale and light Crystal Malt, alongside Centennial and Chinook Hops.
IBU – 35
ABV – 5.2%
Swoon

– Hazy IPA w/ Jasmine Green Tea

Swoon




Hazy IPA w/ Jasmine Green Tea

40
6.2%
Back on S(w)oon! Drink me down in one long drop and then taste me the whole way down… Is that a hint of Jasmine drifting delicately among the haze? I got the flavor baby, you just give me the time… Bittersweet, floral, and a touch of dank from tons of Chinook and Simcoe hops, and Organic Jasmine Green Tea.
IBU – 40
ABV – 6.2%
Madrone Hound

– Hazy Session IPA

Madrone Hound




Hazy Session IPA

29
5.2%
Hazy, juicy, fruity. 'Hoppy' but low bitterness and modest alcohol. This beer celebrates modern American hops – Citra, El Dorado, Simcoe – while staying true to Quintopia's specialty of modest and easy-drinking 'session' beers.
IBU – 29
ABV – 5.2%
Not imperial or session, not black or white or red, not east or west (OK, maybe a little west), not rye or mango or habanero or endangered rare herbs, not hazy, and definitely no fruit!… Just-An-IPA is a well-balanced, old-school IPA. Stay classic.
IBU – 50
ABV – 6.6%
English Maris Otter, Dark Crystal, and Roast Malts. A complimentary mix of Northern Brewer and Centennial hops. Clean American Ale yeast. A crisp yet malty, red-hued ale for any occasion. Our third brew on the Sierra Nevada Original Brewhouse.
IBU – 35
ABV – 5.5%
What's Brewing?
We have Sierra Nevada Brewing Co's original brewhouse on loan at Quintopia! We've also received some of our replacement fermenters and brewing equipment and are finally brewing again on the premise, out the back of the Taproom, during the rebuild process.
Food
A family-friendly venue serving up fun, modern pub food with a twist.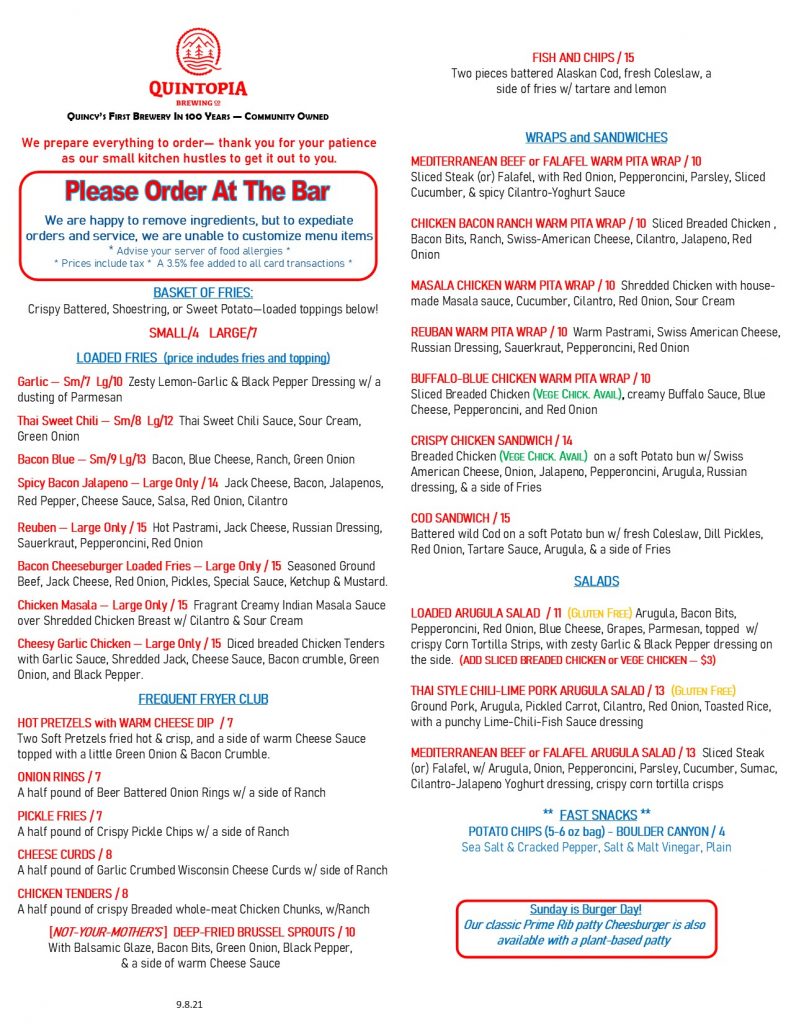 Events
Trivia Thursdays – We are taking a break for a bit!
Our Trivia on Thursday evenings will be on hold while our quizmaster takes a short hiatus, we will update you as we know!